Todmorden Loops - Around the Border Rose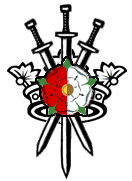 Many thanks to Danial Webb and his dedicated team for organising and running this great local route. Taking in some of the best climbs available in Calderdale, its easy to forget about and take for granted. 3 loops around the boundary between the red and white rose counties.
Described as
gratuitously hilly, its not a route for the faint-hearted. Looking around, Condors included Ian, Nigel, Paul Daley Richard and myself.
Setting off from The Fielden Center, a good number of keen audax riders (including J Emberton and a few Tod Harriers) were treated to a slight alteration to the route. Instead of the almost vertical Doghouse Lane to get started on, we tackled the slightly easier Ewood Lane to ascend to Sourhall. Quickly this leg took us out towards
Burnley, with sportive Emma powering the Peleton, picking up a stray Robin Holt en-route, over Crown Point and Deerplay Moor to Bacup. Sharneyford to descend to Tod and our first Check point and quick brew at Lumbutts Church. Brevet cards stamped and ready for the 2nd leg.
This loop took us white rose way to Hebden Bridge and a visit to God up Birchcliffe Road. A drop to Mytholmroyd and a chance to tackle England's longest continuous climb Cragg Road. A blast though Littleborough and Walsden to again pay a visit to Lumbutts Church this time for a sustaining spread of food laid on to a very high standard. Pete Horne and Lumby had ridden out here to the smell of soup! Refueled and refreshed onward and upward to our 3rd and final leg.
Climbing Crosstone Road and The Long Drag in a heavy hail storm, Great Rock was a welcome sight. Next came Widdop Road where the sun reflected on the reservoir to lift the spirits, not necessarily the heavy miles yet to go. We whipped up and around Blakedean to take in the epic landscape. Outskirts of Briercliffe and the lumps and bumps which seem to be relentless wore tired legs. Last but by no means least
came the ancient Long Causeway (the original trade route between Lancs and Yorks). Here a helpful wind assisted a mad dash over the rolling undulations to descend like demons past Tod golf club. Joining the main road for a brief sprint to HQ where yet again hot food and drink aplenty fed tired limbs. Condor colours decorated a non-competitive podium with myself rolling in first, quickly followed by Cragg Vale Josh and thirdly quickly pursued by Paul Daley. Riders filtered in to discuss this challenging but truly beautiful ride on what had proved a great day. Testing and scenic. Many thanks guys!
Chris Smith